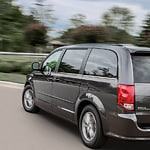 With all of its innovative safety features, it is little wonder that the new Dodge Grand Caravan is the leader in the popular minivan category today. Who would not love to drive a minivan that anticipates every possible risk on the road and provide outstanding protection with its cutting edge design?
Start with the Grand Caravan's built-in traction control, which helps your vehicle stay on the road even during the most inclement of weather conditions. Avoid slide-offs and accidents with this standard feature. Also enjoy easy backing up and parking thanks to the Grand Caravan's rear-view camera. You can now easily see what is behind you even before you begin backing out of your driveway or parking space at the grocery store.
The safety features of the new Dodge Grand Caravan are built with your comfort and confidence in mind. Test drive one to experience them in person today.