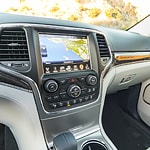 Celebrated for outstanding performance, the Jeep Grand Cherokee is an SUV that's quite popular. It's packed with features that enhance safety.
Blind Spot Monitoring

Blind Spot Monitoring is a standard feature in the Jeep Grand Cherokee that detects when there is another vehicle in a blind spot. In the event that another driver is behind you, there's an audible alert. As a result, you're able to reverse your vehicle safely.

Rain Sensing Wipers

?Technology has forever changed the world. Rain Sensing Wipers are an example of innovation that makes a simple task like driving easier. This feature is in the Jeep Grand Cherokee and has the ability to sense moisture when it's on the windshield. It then activates the wipers automatically. This is accomplished with infrared sensors.
Contact Pearman Motor Company today for a test drive. We're located in Alto where you'll have a chance to see all that the Grand Cherokee has to offer.