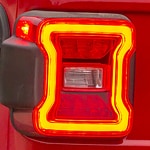 Jeep Wrangler remains a standout in the compact SUV category. Its history of innovation, capability and rugged handsomeness is world renowned. A closer look at its classic and new exterior features confirms why so many people continue to fall under this vehicle's spell. Here are two such features that our Pearman Motor Company team really like.
The Wheels on the Wrangler
Wrangler's wheels go round and round on paved streets of Alto and just about any rocky, off-road trails you can imagine. Built to claim territory, Wrangler shakes up the wheel game with 12+ styles, sizes, colors and finishes. Do you prefer polish or high gloss, black or silver, steel or aluminum? Wrangler gives you the options for the ultimate in trim-specific customization.
Extra-Bright & Efficient
Jeep Wrangler's exterior lights give you plenty of bang for your buck as well as optimal visibility in less-than-perfect driving scenarios. Wrangler's fog lamps, daytime running lamps and reflector headlamps are all LED for maximum output, efficiency and styling.
Treat yourself to a fun, informative Jeep Wrangler test drive at our dealership today.