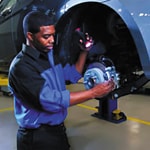 The tires and wheels on your Chrysler are important and valuable. While you know this to be true, you might not have planned for major damage to occur to them. Because your tires bear the brunt of road hazards that you may encounter, such damage can happen at any time. To be ready, you need to have a road hazard tire and wheel protection plan.
This is a policy that will provide you with the full replacement cost of a set of tires and wheels if they are damaged beyond repair due to a covered road hazard. Repairs are also completely covered. This will save you a lot of money.
You will also not have to worry about any towing expense up to $100 that is the result of tire and wheel damage. In fact, you just sign for the tow and away they go. If your vehicle requires service, consider contacting Pearman Motor Company to make an appointment.