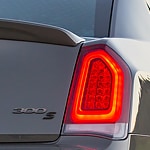 The Chrysler 300 is a work of art to say the least, and this popular sedan has revolutionized the automobile industry. This amazing sedan will come in various trim levels, including the Touring, Touring L, 300S, 300C and Limited. Up to five people can fit in the cabin, and the exterior is architecturally brilliant.
The Chrysler 300 takes advancements to another level. This luxury sedan is equipped with luxurious-looking headlamps. In addition to that, the LED headlamps are equipped with Daytime Running lights. SiriusXM radio will provide over 100 digital channels of sports, news, talk and music. You'll love the sound of your favorite songs via the 19-speaker audio system. This audio system is equipped with a booming subwoofer. The Chrysler 300 will even offer web surfing thanks to its Wi-Fi Hotspot.
Head over to our dealership for a first-class view of this vehicle. Our representatives will provide free test drives for serious buyers.